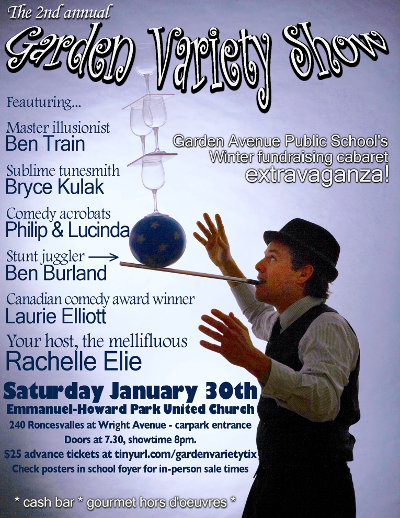 The 2nd Annual Garden Variety Show is this Saturday January 30. Tickets are available online via PayPal:
Doors open at 7:30, show time is 8pm.
This is a licensed, adult-only event which takes place in the gymnasium at the Emmanuel Howard Park United Church at 240 Roncesvalles Ave. Hors d'oeuvres will be served.
This year's Garden Variety Show is shaping up to be an absolute doozy. After a hugely successful launch last year, the Garden Variety Show is back with a fantastic show for 2016. This is Garden Avenue's annual fundraising cabaret featuring the city's finest music, comedy, circus acts, magic and more, hosted once again by the hysterical and captivating Rachelle Elie.
We've got Philip and Lucinda, the world's greatest acrobatic-comedy-kazoo duo. There's master illusionist Ben Train whose sleight of hand and mind tricks will leave your jaw on the floor. Cabaret tunesmith Bryce Kulak has the stage presence and songwriting prowess of Burt Bacharach and Rufus Wainwright's secret lovechild. The insanely funny Laurie Elliott won best female stand-up at the Canadian Comedy Awards in 2006 and has appeared on The Red Green Show and Video On Trial. Ben Burland took our breath away last year with his puppetry and balancing act (as seen on the poster), we have no clue what he has in store for us this time around, but you can bet it's going to be great. Last but not least, Rachelle Elie returns to host the event. A veteran on both Canada's comedy and fringe scenes (outstanding comedy award - Ottawa Fringe Festival), Rachelle will have you in stitches with her quick wit and quirky worldview.
We're very happy to welcome back our beer sponsor Mill St. Brewery. Superchef Garden Dad Jonathan Spence will be in the kitchen crafting hors d'oeuvres.
Once again the Garden Variety show is produced by Luke Jackson and Eli Klein, with the inestimable help of Natasha Teoli, Heather Johnston and Madeleine Cruickshank.